Building Donation by Helen Clunie
The Hilda Hoffmann Memorial Archive Inc. now has a home thanks to Helen Clunie's generous gift of the building at 301 Williams Ave., Picayune, MS to the Archive. Plans are in place to begin sharing the massive genealogical and historical Collection of Hilda Hoffmann with the community and future plans see a Museum, County Archive and Historical Research Center where family histories can be preserved and shared. The building will be named "Helen Alexander Clunie Heritage Library."
Helen was born on January 30, 1927 in Purvis, MS to Ralph and Mattie Alexander. Mattie was Postmaster for Carriere and Ralph worked for the Southern RR. Growing up during the depression, Helen attended Carriere High School, Pearl River Junior College, William Carey and Mississippi Southern which led to her teaching career at Charles B. Murphy Elementary, Pearlington and Pearl River Central. Twice widowed, she is now married to Bob Clunie and lives in Hattiesburg. All three husbands were WWII veterans.
Since her retirement, her accomplishments were many, including 12 years as a Hospice volunteer, a Stevens Minister of First Baptist Church, Picayune, currently an active member of Main Street Baptist Church in Hattiesburg, Norvell Robertson Chapter of the Daughters of the Americana revolution where she is Chair of the Historic Preservation Committee, a member of the Pearl River Historical and Genealogical societies, founder of the Lamar County Genealogical Society and Co-founder of the Hilda Hoffmann Memorial Archive Inc. She has been awarded four Preservation awards by the National, State and local DAR for her research and preservation of a forgotten cemetery in Pearl River County. Joining with others and the Gainesville Volunteers, she helped restore the old Stewart Cemetery devastated by Hurricane Katrina, where seven Civil War veterans were discovered and recognized with new tombstones honoring their service. Her interest in Cemeteries and genealogy forced her to become "computer literate" where she researched and discovered long lost siblings on her mother's side which led to a tearful reunion, discovery of her Cherokee heritage, and membership in the Four Winds Tribe in Deridder, LA, as well as the Intertribal Committee at USM. She and Bob frequently attend Pow-Wow's. She is ¼ Cherokee on her mother's side and 1/8 Choctaw on her father's side.
In 2010 and 2011, she and Bob have devoted much of their time to help organize and preserve the Hilda Hoffmann Collection. Hilda, a life-long historian and genealogist died on July 4th, 2010 and left her collection to Sara Sheldon from San Antonio, Texas. Sara contacted Helen, and the two of them brought the collection to a storage shed, and then to a safe, climate controlled location in Hancock County. Joined by Don Wicks, a non-profit organization was formed with the purpose of fulfilling Hilda's dream of preserving her collection, keeping it in Pearl River County and sharing it with the public. After the Williams house was purchased by Helen, Hilda's collection was moved there and efforts began to make it ready for preserving and sharing its content with the public.
The Hilda Hoffmann Memorial Archive Inc. now has over 100 members and invites the whole community to join with us in making the dream of having a County archive a reality where family histories can be preserved and shared. We are looking forward, for families to share their precious histories and artifacts with us, so that all of us can reminisce in those things that made us who we are, and so our children and future generations will come to recognize the joys and struggles of how they became to be who they are.
Here is a picture of Helen: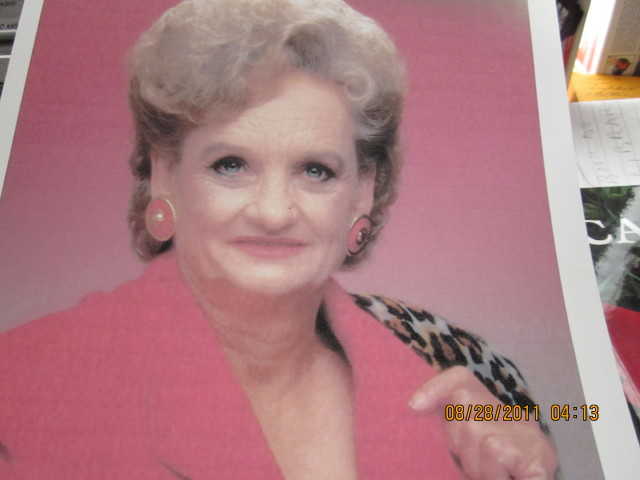 The pictures below were taken at the signing of the documents for donating the property.