Welcome
Welcome to the Hilda Hoffmann Memorial Archive
---
 Please
Help!
The Hilda Hoffmann Memorial Archive Library is having a Fund Raising Drive!
Click here to read the details.
Also consider including the Library in your will.  Donations made in this way will help keep the Library open so that future generations will have access to the wonderful collection of Historical and Genealogical documents assembled by Hilda and many others.  Bequests should be made to 'Hilda Hoffmann Memorial Archive, Inc' at the address below.
Hilda Hoffmann Memorial Archive
301 Williams Ave.
Picayune, MS  39466
---
"Always do your own research to document any genealogy you may find on the internet.  Unlike the D.A.R., websites do not verify the accuracy of the prodigious amounts of family records and genealogy they receive and put on the web.  Never just copy what you find online.  Use what you find submitted by others as clues only.
Caution!  Caution! Caution!".
–Hilda Formby Hoffmann 10/16/2000
---
Thanks to the efforts of volunteer Mae Foster, we are beginning to publish the Obituary Index online.  It is still a work in progress, but your comments and suggestions are welcome.  Click here to browse the index.
---
This is the home of Hilda Hoffmann's genealogy and history collection for south Mississippi and Louisiana and beyond. It is a lifetime collection which Mrs. Hoffmann began when she was sixteen years old by recording all the cemeteries she could get to in those days.
From there she became a genealogist and historian widely known for her expertise. Her work continued without ceasing until her death on July 4, 2010, at age 92. It was her dying wish that someday her work would be housed in Pearl River County, Mississippi and made available to the public for family research.
Please browse around to discover our goals, growing membership and progress. We welcome your comments and questions on the Contact Us page.
Making this vast collection available to the public is an on-going process and we need your help. Be sure to check the "Panic List" under "Wish Lists" to see if you can help out. Become a member and receive monthly progress reports. We would love to have you aboard.
Sara D. Sheldon
Chairman/Curator
History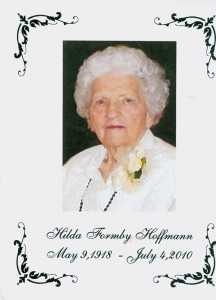 On the 4th of July 2010, Hilda Formby Hoffmann, an esteemed local historian passed away leaving hundreds of boxes of rare and vital records of our county, its people & beyond.
Her stipulation that it be housed in Pearl River County brought on an immediate crisis, since nowhere in our city or county is there such a place. We have no museum or archive and our library history room is overflowing. The curator of the material scurried about, first moving the collection to a metal storage building, and then to a safe temporary location in Hancock County.
An organization has been formed and non-profit status achieved for membership and donation support and to pave the way for potential grants. Our hope is that the community will come together in support of our goals – First to find a local place, open to the public where we can store and scan documents and then occupy, at some future time, a Museum, Archive and Historical Research Center worthy of our heritage, and vital that those who came before us will not be forgotten. (Please remember that this the History section – we now have a location for the collection thanks to Helen Clunie.  See this page for more.)
How you can help!
Join the Hilda Hoffmann Memorial Archive organization.
Donate what you can afford to the Hilda Hoffman Memorial.
Tell your family and friends what we're trying to do and encourage them to join and help.
We encourage individuals, families, neighborhoods, organizations, businesses, churches, schools and our local government to get involved and support our cause.
If you would like join the organization or learn more about the project, please use the Contact Us form to send us a message.